Zen Bastards - April Fool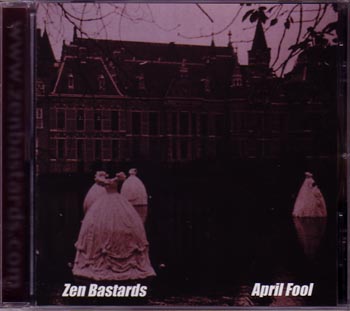 Zen Bastards are:
Michael Caglianone - soprano, tenor, baritone saxophones, saxello and electric alto sax
Scotty Vercoe - Fender Rhodes Satellite, Hammond porta B3, hohner E6 clav
Brian Verrochi - electric 5 string bass
Jimmy "the sammich" Lucchese - drums and outbursts
engineered by Ioana Pieleanu at 7A West
mixed and produced by Mike Caglianone at 7A West
mastered by Jonathan Wyner at M-Works

The first recorded work by Boston's premiere improvisors, Zen Bastards debut release has hit the ground running! This set was recorded over 2 weekends in 2002 and features the core group and many special guests playing some challenging yet remarkably accessible improvised jazz! The disc runs 55 minutes and takes the listener on a variety of musical journeys that touch on jazz, out jazz, funk, punk jazz, rock, electronic music, electronica and much more! Watch for new material from these guys! They're currently cataloging over 24 hours of live material recorded during their 18 month SkyBar residency and have also started working on their sophomore studio recording!
Click here and check out Zen Bastards "psychotic larry versus the toaster oven" (3.5 megs) off their debut release April Fool!
NEW!
This is a brand new remix of psychotic larry. Courtesy of Scotty "magicman" Vercoe! Very cool.... click here to check out the Psychotic Larry Remix (2.7 megs)
You can purchase the new Zen Bastards CD directly online from cdstreet.com

For more info on the Zen Bastards check out: The Zen Bastards page on this site

or visit The official website! ZENBASTARDS.COM
or you can email Mike Caglianone at: mike@7awest.com

[Ed Rashed]
[16 Wade]
[The Photon Torpedoes]
[Satellite Seven]
[Jack's Smirking Revenge]
---