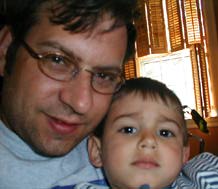 Mike Caglianone
(with future engineer Michael jr.)
Musical Background
Mike has worked as a musician, composer, engineer, producer, personal manager and promoter in the Boston area for 20 years. While in Berklee, he played and recorded with fellow students Branford Marsalis, Jeff "Tain" Watts, Donald "Duck" Harrison, Greg Osby, Marvin "Smitty" Smith, Walter Beasley and others. During breaks from Berklee he went to L.A. To study with Art Pepper. He ended up touring the West coast with Pepper and played several shows with Chet Baker for two years in 1981/82.
Upon his return to Boston in 1982 he became involved in the business side of the industry while continuing to play shows. He has composed music for various large scale installations and theatre productions including "Clean Memories of the Big Fish" on Boston's City Hall Plaza, Performers Ensemble "Medea" "Portraits for 2 and 3 Dancers" for the MJT Dance Company and the multi-media architectural space "Shrine to the Private Marching Songs" designed by Architect Eric Gould.
Mike has managed and produced the Boston bands Shade and Iguana Poets (formerly Sara Laughs). He produced Shade's disc "Life Inside Here" which spent 6 months on the local music charts and Sara Laughs record "Where" which charted in the top 20 on 70 CMJ reporting stations. He worked with many other Boston Bands in the studio throughout the 1980's and early 90's as both and engineer and producer, and remembers when editing meant cutting the tape with a razor blade....
As a player Mike performed and led the group Syzygy for 15 years. He is also a founding member and current "Master Bastard" of the Zen Bastards.
Teachers
Mike has studied music with Andy McGee, George Garzone, Art Pepper and Joe Lovano.

He has worked with and learned from recording engineers Chris Lannon, David Van Slyke, Patrick Murray, Paul Kolderie and many others
Work History
1983 - 1985
Talentworks Full service agency providing management, booking and talent scouting for the label Beantown Records. Ran the booking agency and development of the artist roster. Booked cover and original jazz, funk, rock and fusion bands in colleges and clubs throughout the Northeast. Personal management for the bands Shade and Sara Laughs.

1985 - 1987
Boston Shakespeare Company Theatre House manager for the theatre. Helped to coordinate all front of house and artist relations for various national and local avant garde dance and theatre productions including Mabou Mines, Suzanne Linke, Mark Morris, Eiko and Koma, LaLaLa Human Steps and many others.

1985 - present
CM Communications, Inc. Founding partner of CM Communications, a full service marketing communications specializing in the entertainment and hospitality industries. Produced and promoted shows with Meredith Monk, Jan Fabre's The Power of Theatrical Madness, Squat Theatre, John Zorn, The Golden Paliminos, Bill Lawell, Fred Frith, Elaine Boozler, Barry Crimmins, Steve Sweeney and many others. Worked with local promoters such as Northeastern University NuArts, The Mass Council of the Arts, and The Institute of Contemporary Art to promote and produce shows in and around Boston. Current Clients include Boston Billiard Club (6 locations) Nantucket Island Resorts, The Wauwinet and Mount Snow Valley, Vermont. Current responsibilities: Running all of the internal financial company operations, new business development, new media and all broadcast media.

1997 - present
7A West Studio Owner - engineer/producer. Has recorded over 750 projects since fall of 1997. Produced several critically acclaimed CD's for local jazz, experimental, rock and alternative artists. Mike has produced, engineered or mastered (or sometimes all three) artists for: Elektra Records, Espo Records, Tautology Records, Sachimay Records, Raucous Records, Telepathy Records, Pelado Records, Emanem Records and Twisted Village Records - see past clients , clients , and what's new pages for more!
---