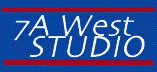 Welcome to our Client's page.
We've had a pretty spectacular winter/spring season here at 7 A West Studio! Even though it's been a cold and rainy summer so far it's beginning to get HOT around here! We had the priviledge of recording some pretty amazing projects in the past several months! We've been revisited by many of our favorite musicians, had quite a few new faces in and have even started some great side projects for some of our past clients. Once again, thank you to all the musicians that have come through our doors this year! It's been our best ever and without you, none of this would be possible!
To check out what we've done, make sure to visit our PAST CLIENTS PAGE for a complete list and links to their sites!
Check out below and see what we've been up to lately!
CLIENT UPDATES.....
We've had quite a bit of news lately from some of our past (and present) clients that we're proud to share with you! But First........
Is it April already?? The ZEN BASTARDS debut release "April Fool" is officially RELEASED! After many long months of intense editing and mixing, it's ready and we're very proud of this one! Recorded over two weekends in April and June 2001, this set of insanity was more than worth the wait. The review have been pretty amazing and we're just starting! Our new website www.zenbastards.com will be up by the time you read this news! We've got links to some of our mp3's and you can buy the disc right online through CDstreets secure server! Hear some samples and check out when and where will be playing live! Make sure to drop us a line and tell us what you think!
If you want to know more about the Bastards, visit our page on this site, just CLICK HERE!
Congratulations to all of our hard working friends and clients! Keep up the good work!
IN THE STUDIO........
Jessica Sarin Perry and Reggie Lofton completed work on Jess's long awaited debut CD. Beautiful stuff. The Photon Torpedoes completed mixing and mastering for their long awaited follow up to "it came from outer space". Another scary psychobilly mess! Used came to visit us and brought some heavy rock madness for Mike to Mix. Their debut disc "the Prophet Stands Alone" is out now...Masashi Harada was in for multiple projects including work with Steve Drury, Malcolm Goldstein and mixing for his upcoming follow-up Condanction ensemble release on Emanem Records of London. Pop rockers Default Outfit returned to 7A West to continue working on their debut CD, we've recorded and mixed 6 new songs as well as remixing the 6 from last time and all that's left is mastering and world domination! Bob Aguilier of Savin came in to demo some new material Composer/Guitarist Adam Wilson came in for something completely different! He's a closet "funkateer". Buffalo Bill knows...... Composer Curtis Hughes has brought us multiple projects over the past few months, featuring incredible compositions and amazing players. We were extremely proud to have hosted the Third Rail Sax Quartet featuring members of the President's Marine Corp Band Jeremy Saunders - tenor sax, Ivy Goodlett - bari sax, Miles Smith - alto sax and Greg Ridlington - soprano sax. Extremely talented players, and extremely talented United States Marines! Semper Fi... Elio DeLuca returned several times to master more releases for his label Telepathy Records. We also mixed the swan song recording for Elipsis who are taking a break to pursue other projects. Two Steps to Infinity came in to record their debut CD. Really cool female fronted "metal with a twist" (sort of) These Berklee alum ROCK! Big D and his crew RMA have started work on their debut CD release. DJ Phatboy Phat is kicking out the jams for these gangsta's Sue DeLeo brought us her project Indra Loca for mastering. Beautiful ethereal world music based stuff.. Lucien Desar returned to continue working on his Alice in Wonderland Suite for world-wide release in October of 2002 Mark Love brought us his outstanding rock to master Improvisor (and Masashi Harada student) Michael Iannantull stopped in to record a few sets of outness Drummer Fred Seargeant stopped in to record a demo for his outstanding jazz quartet and in walked new dad Blake Newman to cover the bass. Congrats on the birth of your new boy BLAKE! Dimestore Haloes were back to work on their new Pelado Records release with the lovely Ioana behind the board. More "rootsy" than their last offering, these guys still ROCK! Sunset is a Battle were in to master their fine CD recorded by Joe down at Guilty Dogs studio in Hanson. Nice work JOE! Elena Proakis brought her band Polyethelene in to work on a 5 song demo, soon to be expanded to a full length disc! AND FINALLY.......
Punk Rockers JHC stopped by with their infectious old school jams to master!
Why not call and make an appointment to take a tour of Boston's hottest studio.
Find out why the cream of the Boston music scene records at 7A West!
Call (781)356-7536 or (617)755-3575 to make your appointment TODAY!
---