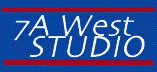 We're constantly searching the web for the informative, the strange, and the absolute coolest links possible....Here are some of this month's choices! We're always changing our links and adding new ones so make sure to check back often!

FROM OUR WEBSITE!

Make sure to visit our PAST CLIENTS PAGE for links to the websites of many of our clients! And also make sure to check out our MP3 Page for free full length samples of some of Boston's hottest up and coming groups!

Zen Bastards page at 7A West
Make sure to drop in and check out the site for Boston's premiere jazz improvisors Zen Bastards! Find out about upcoming gigs, buy some merch, or just drop them a line!

FEATURED SITES!

Here are some very cool sites for you to check out. Enjoy!

MP3.com
The grand daddy of free music sites mp3.com offers bands the ability to get their music heard and even sold, for FREE! The quickest and easiest way to distribute your music on the net!

garageband.com
Their ba-aaack! Gone for awhile as they restructured their site, garageband.com is another free means to distribute your music, but with a very cool twist! You upload mp3's of your bands music and other musicians do blind reviews! Get feedback from your peers and expose your music to a large and appreciative audience! A very cool wat to get your stuff out there!

The SkyBar
Very awesome club in Somerville, MA. booked by WBCN's Shred, this place rocks! 7 nights a week of the best of Bopston's live rock, pop, punk, jazz you name it, they've got it. Click on the link and check it out!

RESOURCES FOR MUSICIANS

These sites offer tons of contacts, resources and information to help you with your career.

ASCAP
ASCAP is one of the performance rights societies available to musicians. There's lot of great stuff here including information on joining, interviews with members and helpful articles for artists. A must for the songwriter.

Jazz Online
THE site for Jazz lovers, Jazz Online is a monthly e-zine dedicated to the art of JAZZ! Articles, interviews and new releases are covered in both traditional and modern jazz!

Deterrent DIY Tour Manual
If you're thinking about booking a tour for your band, this is a great site! Aimed primarily at rock bands, it features a state by state listing of US and Canadian clubs including contact info and comments from bands that have played them.

AND NOW FOR THE BIZARRE!

One of my favorite all time weird sites for your viewing pleasure......

Museum of Bad Art
Dedicates itself to "art to bad to be ignored".....check it out!

Got any favorites of your own? Let us know and we'll add it to the list! If you run a site and would like to be linked to ours from this page, just let us know! Send us some mail to tell us what you want to see!
---