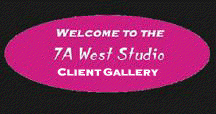 Welcome to the 7A West Client Gallery Pages. Here you'll find some photos of our clients hot at work on their latest projects! Just Click on the images below to see a full size shot!
Shots of our main room!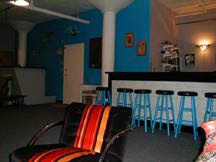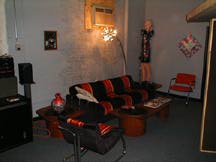 This month we've put in some shots of our newly spruced up main room! We've done some painting, added some cool new furniture and turned our place into an even friendlier more relaxed hang...
(L) Check out our newly refinished bar area! We added some beautiful marble tile to the bar and painted the wall behind it a really cool blue (Thank you Ralph Lauren)...even the stools match!
(R) Our newly purchased vintage 1960's hipster living room set not only looks awesome, it's pretty comfy and remarkable trendy....we spotted out couch in the background on a recent HBO production about two porno brothers....the Mitchell Brothers of Behind the Green Door fame....starring those crazy Sheen/Estevez boys...watch the final scene where Emilio blows away Charlie....there's our couch....Also, make sure to check out the SCREAM statue in the corner....a creation of Chris Burleson's sick mind...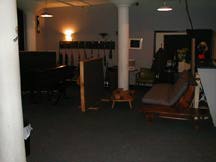 A shot of the rest of our space (opposite side of the room from the living area) showing our guitar's hanging and ready for action and our beautiful Chickering Grand Piano. Our main room is 1500 square feet so it's big, sounds awesome (lot's of space, high ceilings and a big wooden stage - not shown here...but see the photos of WAVER) and is extremely comfortable.
---
[Client Gallery 2]
[Client Gallery 3]
[Gear Gallery]
---