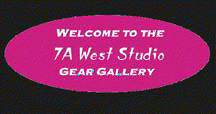 Welcome to the 7A West Gear Gallery Page. Here you'll find some photos and descriptions of our gear. Take a short virtual tour of our facility! Just Click on the images below to see a full size shot!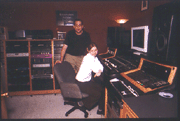 Welcome to our control room! Tracking engineer Ioana Pieleanu and Mike, behind our console. This shot shows our main mixing desk custom designed by Chris Shaw. It contains our Mackie D8B, control monitor, mastering computer monitor and keyboard, 3 ADAT XT machines, and our DAT mixdown deck. Behind us also racked in the main desk, are 14 channels of vintage mike pres including a pair of Calrec 1064's, a pair of Audix 35102's, and pairs of telefunkens, Neve's and Api 's. The monitors are Tannoy PBM6.5's. The large monitors are our Dynaudio Acoustic BM15A monitors! The large rack behind mike contains all of our awesome compressors and a full and serious 576 point patchbay to connect it all!
---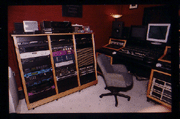 Another angle of our contol room. You can see our various compressors like our Neve, Purple Audio 76 and Empirical labs Distressor.... Our FX processing gear by Lexicon, TC electronic, ART and more, plus a great shot of our massive patchbay!
---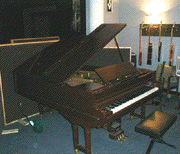 This is our pride and joy! A Vintage 1926 Chickering 6'4" grand piano. We think it is one of the nicest instruments in town and definately the best compared to studios in our price range. We've had many heavy players record with our piano like Lazlo Gardony, Ran Blake and Steve Drury to name just a few and they all agree, it's a fine instrument! We keep it meticulously maintained by Fred Mudge, tuner extrordinaire.
---
Another plus is our collection of guitars. It includes a 1956 Kay Thin Twin, Fender Strat, Gibson Les Paul Studio, PRS double cutaway, Fender electro-acoustic 12 string, DeArmond/Guild Starfire and a very cool and unique Roland ANALOG guitar synth prototype. Make sure to ask about our Coral electric Sitar!
---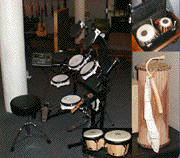 Some of our newest additions in the percussion area. Shown are our new Roland V-Drums Custom setup. These drums sound pretty amazing and we've been giving them a trial by fire! We've used them on several film scores and video spots, as triggers for our procussion module and even as the main drums on a recent pop production, verdict....AWESOME! Also shown are some of our other percussion instruments including from the top...tablas, our talking drum and our bongos.....

Click here to see who's been in!
---