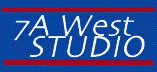 Other Mastering Processes
One of the truly cool advancements in recent years in digital recording, has been the development of software plugins. With plugins, processes which were either impossible, or ridiculously expensive are made affordable, and practical. At 7A West, we occasionally find ourselves being asked to do "non-standard" things to mixes. With our extensive library of software plugings, we're generally able to honor those requests! Some additional things we can do include:
Stereo Field (spectral) Enhancement: By running your mix through the WAVES S1 plugin, we can give the listener the impression that your music is coming from outside the stereo spectrum, thus "widening" your mix.
Tape Saturation Effect: Using the Hyperprism Saturation plugin, we can give your mix the slight harmonic distortion present in a "hot" analog mix. This is particularly useful with more "vintage" type projects like rockabilly, old school funk or punk rock.....
Other Stuff: We've had a number of requests over the years for things like "grainalizing, or deconstructing" the fade out of a song, ring modulation effects, vocorder effect, the list goes on. In a nutshell, if you have an idea, or a particular effect you want to hear, just ask. If we can do it, we will, if we can't we'll always at least try!
This brings us to the final step in the process....


---